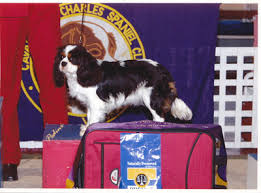 ABBYSFIELD MONETS DREAM
"GIDGET"
WE ARE A SMALL CAVALIER KING CHARLES SPANIEL KENNEL SITUATED IN TASMANIA. OUR MAIN AIM IS TO BREED SOUND, HEALTHY, CAVALIERS  
WE ARE REGISTERED WITH A RECOGNISED BODY  – THE TASMANIAN CANINE ASSOCIATION
(FOR PEDIGREE DOGS ONLY)
OUR PUPPIES GO WITH A PROPER DIET CHART AND CARE SHEET AND SUPPORT THROUGHOUT THE  PUPPIES /DOGS LIFE
COMING FROM A BACKGROUND OF SHOWING AND BREEDING COLLIES, I FOLLOWED THROUGH WITH THE STRUCTURE AND MOVEMENT OF THE WORKING BREED OF COLLIE AND DECIDED TO PUT MY THOUGHTS OF STRUCTURE/MOVEMENT INTO THE BREEDING OF OUR CAVALIERS, THERE IS NOTHING MORE PLEASANT THAN TO SEE A CAVALIER MOVING EFFORTESSLY  AROUND THE SHOW RING.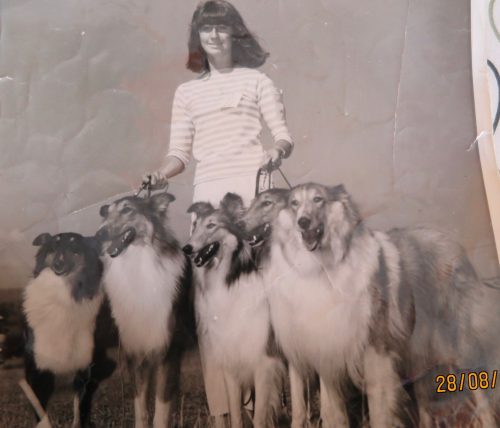 OUR EARLY BREEDING HAS BEEN BASED ON WELL KNOWN LINES, BEING ENG CH ALANSMERE SPRING TIDE, ENG CH TORAYLAC JOSHUA, ENG CH RICKSBURY ROYAL REFLECTION, END CH SALADOR CONNORS AND HOMERBRENT.  WE NOW HAVE INTRODUCED THE FAMOUS "MAIBEE" LINES INTO OUR OWN LINES WITH MUCH SUCCESS, SOUNDNESS, LOVELY SOFT TEMPERAMENTS AND STRUCTUALLY SOUND AND VERY PRETTY.
I have visited UK on numerous occasions, seeing Crufts and meeting other breeders. I am a member of The Cavalier King Charles Spaniel Club of UK, also a member of the Tasmanian Cavalier Club.
Recently (2019) my husband and I  visited the Scottish Club Show in Scotland and saw some lovely cavaliers being shown
WE BELIEVE A CAVALIER SHOULD BE A CAVALIER AND NOT PURPOSELY CROSSED WITH ANY OTHER BREED THATS WHY WE ARE REGISTERED BREEDERS WITH THE TASMANIAN CANINE ASSOCIATION INC.  WE  BREED TO A STANDARD TO MAKE SURE OUR DOGS LOOK LIKE CAVALIERS HAVE PEDIGREES THAT CAN GO BACK MANY GENERATIONS AND HEALTH TEST TO KEEP OUR BREED SOUND AFTER ALL THESE "TOY SPANIELS" ARE FOUND IN MANY OF  THE OLD MASTERS PAINTINGS IN PALACES ALL OVER THE WORLD – OVER 500YEARS
"IVY"
ITS NICE TO OWN A PEDIGREE CAVALIER KING CHARLES SPANIEL BRED TO A BLUEPRINT
JUST ASK AN OWNER